Arisen, lyrics by Number 5, photo by Scully Media
by remysaverem
Lyrics by #5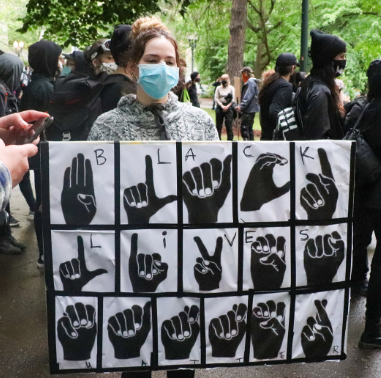 How has community arisen?
What is it like in your dreams?
Explore what you're for; share your visions,
For life beyond divisive, racist schemes.
Inculcation,
Institutions,
Violence,
Poisoned roots;
Branches of devastation
Bearing strange fruits….
CHOP them down,*
Replace them,
With autonomous zones.
Think outside the box;
Make communities our own.
All with voice,
All with choice,
All encouraged, welcomed, rejoiced.
Those who've been privileged,
Stepping aside,
Listening and learning,
Eyes open wide.
Those who oppose,
Who chose to misalign,
Who collude with violence:
It is no longer your time.
Never should have been.
Never will be again.
Statues torn down,
Police to be defunded.
You bought into oppression?
That's your loss,
Won't be refunded.
Community begins
Where oppression ends.
If you're here to rebuild,
We're community; we're friends.
*This is a reference to CHOP: Capitol Hill Occupying Protest,
the new name for CHAZ.
Lyrics by #5. Photo by Scully Media, shared with enthusiastic consent