Digital Direct Action: Hold Violent Cops & Unjust Courts Accountable
by remysaverem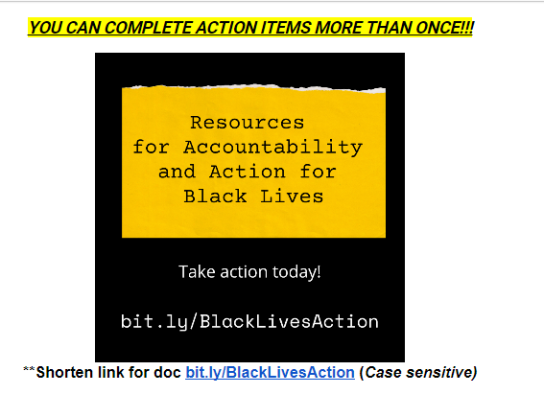 The following is copy-paste of a publicly available Google Doc.
(Some might be reticent to log into that site with their accounts as the document might be monitored, and anyone logged in can see anyone else logged in. Others might not know of this type of curated do-it-from-anywhere activism.)
**This is a live document compiled by Carlisaon 5/27/20. If you wish to give credit click here for Instagram or here for Facebook. You are free to share and post this document anywhere. **
https://www.instagram.com/girlonthegowithafro/
https://www.facebook.com/AtlantaResistanceRevivalChorus
***Highlighted items are items added recently.***
Updated daily as more resources and information becomes available.
**Submit updates and additions to resistancerevivalatlanta@gmail.com
Seeking justice means putting in the work. Say their names, share their stories, but first and foremost, take action. We must help the families of Ahmad Arbery, Breonna Taylor, George Floyd, and the many other Black Americans unjustly murdered and abused by law enforcement and other protectors of white supremacy. Take action today.
Text 'MORAL' TO 909-75
Text POLICE to 504-09
and easily and automatically sign a petition to end police brutality and send letters to your officials.
---
David Mcattee
**Added 6/1**
Police/National Guard murdered David Mcatee in Louisville around 12 am as they shot blindly into a crowd outside Mcatees business. Governor Beshear is allowing LMPD to independently investigate themselves. This cannot stand.
Contact Governor Beshear and Mayor Fischerand demand accountability.
Governor's office (502) 564-2611
If you have a Kentucky address submit an email here.
Mayor Greg Fischer -Call (502) 574-2003 or Email here
Contact County Attorney- Call (502) 574-6336
Contact Attorney General Call (502) 429-7134
Immediate release of all body camera
Appoint citizen review panel with subpoena power to investigate
Louisville Mayor must immediately appoint interim police chief
**Update 6/2 Police Chief has been fired**
Mayor must immediately fire the officers involved responsible for Breonna Taylor MurderTony McDade

**Added 5/29**

Sign the petition here to contact elected officials and demand:
Remove Police Chief Lawrence Revell
Open an unbiased investigation into Tony's murder
Arrest all the police officers involved
Release all body camera footage
Demand the TPD Citizens Advisory Committee be dissolved and replaced with a freely elected Citizens Police Accountability Council
Demand response from the Mayor, City Commission, and the Mayor's "LGBTQ Advisory Board"
Contact Mayor John E. Dailey and demand response and acknowledgment of Tony's murder and establishment of Citizens Police Accountability Council
850-891-2000 or mayor@talgov.com
Please also Text 'TONY' TO 484848 for more ways to help.

---

!!!FIRST PUBLIC HEARING FOR CASE 6/4!!!

Ahmaud Arbery

Demand the immediate resignation of District Attorneys Jackie Johnson and George Barnhill. Sign the petitions here and here.
Complete repeal of Georgia's Citizens Arrest Statue (OCGA 17-4-60). Contact your representative and demand it.
Establishment of Hate Crime Bill in Georgia. HB 426 must be passed. Contact your representatives and demand it.
Contact:
**Added 6/3** Case has been assigned to Cobb County DA Joyette Holmes Contact (770) 528-3080 or cobbdistrictattorney@cobbcounty.org
Glynn County District Attorney 912-554-7200
Find your representatives www.senate.ga.gov and www.house.ga.gov

---
Breonna Taylor
Sign the petition here demanding:
Firing of LMPD Officers involved
Charges dismissed against Breonna's boyfriend (They are in the process of being dismissed).
Support the demands of Louisville Branch of NAACP
Kentucky Attorney General intervene and appoint an independent prosecutor to investigate LMPD
**Special investigator appointed as of 5/28, but transparency still required.
File charges against everyone involved in Breonna's Murder
Policy change as it pertains to police raids, body cameras, and internal investigations
Contact:
Mayor Greg Fischer -Call (502) 574-2003 or Email greg.fischer@louisvilleky.gov
Contact County Attorney- Call (502) 574-6336 Now please contact Attorney General
Contact Attorney General attorney.general@ag.ky.gov or 502-429-7134
Contact the Police chief here ( Chief Steve Conrad has resigned as of 5/28)
New Contact ADDED 6/4 Interim Police Chief Robert Schroeder Robert.Schroeder@louisvilleky.gov
**Updated instructions and details to support Breonna's case here**
---
George Floyd
Sign the petition here demanding:
Minneapolis Mayor block the pensions of the fired officers and ban them from ever becoming police officers again.
District Attorney Freeman charge all four officers with murder immediately.
**Derek Chauvin has been placed under arrest and charged with 3rd-degree murder as of 5/29**
***Update! All officers have been charged.
Demand the immediate release of the names of all officers who murdered George Floyd. (Identified as of 5/28: Derek Chauvin, Thomas Lane, Tou Thao, and J. Alexander Kueng)

Contact:

Police Chief Medaria Arradondo- Call 612-673-2735 or Email policepio@minneapolismn.gov, Minneapolis311@minneapolismn.gov, info@mpdfederation.com

Mayor Jacob Frey at jacob.frey@minneapolismn.gov or (612) 673-2100

Call Hennepin County Attorney Mike Freeman, Minnesota Governor Tim Walz, and Minnesota Attorney General Keith Ellison today and urge them to appoint an independent

prosecutor to work under the Attorney General's authority. Contacts here.

**Additional contacts and resources here.**

---

Sean Reed

Sign the petition here demanding all officers involved be charged with murder
Contact Marion County Prosecutor Ryan Mears(317)327-3522 and demand accountability and charges be brought forth.
Contact Indianapolis Mayor Joe Hogsett 312-3601 or https://www.indy.gov/workflow/write-to-the-mayor
Indiana Governor Eric Holcomb 317-232-4567 or https://www.in.gov/gov/2752.htm

---

James Scurlock

**Added 6/3**

James was murdered on May 30 in Omaha, Nebraska by a white supremacist. His murder has not been formally charged.

Sign petition here.
Demand Douglas County Attorney office pursue justice for James Scurlock. Currently it has been stated by the county attorney that it was self defense at charges no charges will be brought forth. This cannot stand.
Contact Douglas County Attorney Office at 402-444-7040
UPDATE 6/4: Grand Jury has been requested to convene with special prosecutor.

---

**Added 6/4**

While protesting, Justin was shot with a "non-lethal" rubber bullet in Austin. As he was being carried by medics, they were again the target of shots from law enforcement. Justin now has a fractured skull and is in critical condition.

Sign the petition here demanding:

Austin Mayor Steve Adler, City Manager Spencer Cronk, and Austin City Council Members fire Austin Police Chief Brian Manley

immediate implementation of training reforms about de-escalation.

Contact

Mayor Steve Adler 512-978-2100 or email here.

City Manager Spencer Crock 512-974-2220 or email here.

City Council Members email hereTo demand the firing of Police Chief Brian Manley and implementation of de-escalation training for law enforcement.

***NOTE*** Justin has not passed away. He is in critical condition.

---

***Added 6/7***

Sign petition here.

Demand:

Release of complaint history, disciplinary record, and toxicology report for all officers involved

Release the autopsy and footage to the family

Fire, charge, and convict all officers involved( Matthew Collins, Christopher Burbank, Masyih Ford, and Timothy Rankine)

Fire Police Chief Donald Ramsdell

Contact

Mayor Victoria Woodards 253-594-7848

City Council Member for S.Tacoma District Chris Beale 253-591-5470

Pierce County Council Member Marty Campbell 253-798-6653

District Attorney Mary Robnett 253-798-7400

Washington State Attorney-Tacome 253-593-5243

Calling script available hereJaleel Stallings

**Added 6/7**

While protesting in Minneapolis Jaleel and other protestors were fired upon from a white van. Jaleel was wrongly charged and arrested for this. Upon arrest he was also beaten. He has broken bones and his medical status is not completely known at this time.

Sign the petition here.
Demand:
Jaleel's Immediate release
All charges dropped
Contact
Hennepin County Attorney's office 612-348-5550 or email

---

** Added 6/7**

Sign the petition here
Demand:
Outside, transparent, and public investigation because the Phoenix Police department cannot investigate without bias
Arrest and charge of all officers involved
All information must be made available to Dion's family and the public
Contact
Mayor Kate Gallego 602-262-7100 or mayor.gallego@phoenix.gov.
Email/Phone template here.

More contacts and resources for #JusticeforDion here from BLM Phoenix

---

Sample Email

Fill with appropriate names and contacts. Can also be used as a script for calling.

Dear District Attorney Freeman,

I am contacting you today to demand justice for George Floyd who was brutally murdered by those who swore to protect him. As a concerned citizen, I demand the immediate charge of Derek Chauvin, Tuo Thao, and all other officers involved in this grisly killing. Their inaction proved to be as deadly as Chauvin's actions.

When you took office you swore to protect all victims of crimes in Minneapolis. George Floyd is the victim of a most heinous crime. His life was cut short as he was denied every liberty bestowed upon him as an American citizen. Due process, the right to seek justice, and the right to live, all stolen from him by a public servant.

Now, as you face the crossroads of this important decision, I trust you will make the right choice and bring charges against those officers who wrongfully and willfully murdered George Floyd on that fateful day. George Floyd deserves justice and you can deliver it. You must deliver it.

Regards,

Your name

Scripts for calls available here and here

**Added 6/14Congressional Email/Letter Template to End Qualified Immunity here.***

Petitions for Black Americans who are victims of Failed Systems

and Militarized Police

***Please read the petitions in full to ensure you complete actions associated with each.***

Reminder DO NOT donate through Change.org!!

Signing a petition is just the first step. Remember to follow up with these cases on a weekly or monthly basis. Search for more actions you can take. Do not allow their names to be forgotten.

---

---

Future Boop Troop Eugene blog posts will include comparable lists of (a) bail funds; (b) groups accepting donations; (c) anti-racist self-education suggested steps. Remember: Anyone of any age, any health consideration, and any housing or socioeconomic status can and is welcome to participate and be a valid, honored member of activist communities. Yes we need and love those who can be there and live-stream, and those who can be there and march. And, there are meaningful roles for those who cannot. This blog will continue to highlight both. We love you all! –#5