Tik-Tok Teens + K-Poppers for the win
by remysaverem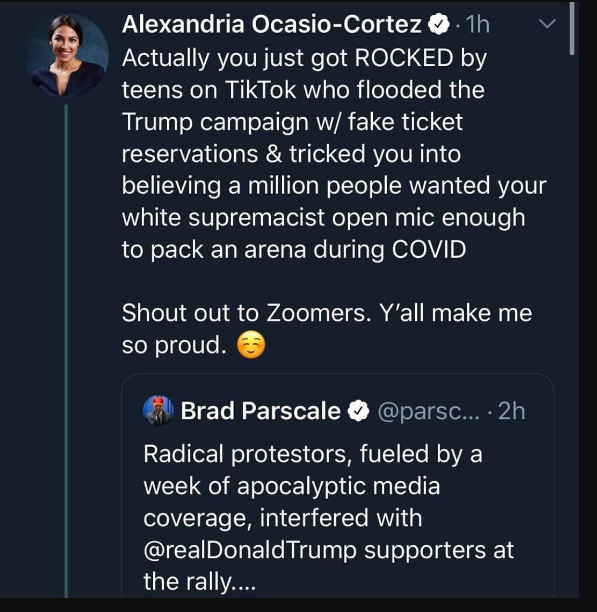 There were MANY THOUSANDS of empty seats.
Highlights of the Daily Mail article are here for your entertainment and not as an endorsement of that paper. This is about 25% of the article, excerpted but not edited other than as designated with [ ].
"AOC joins hundreds of Twitter users claiming teens on TikTok and K-pop fans sabotaged Trump's Tulsa rally and left seats empty by reserving thousands of tickets with no intention of showing up
TikTok and K-pop fans claim they reserved tickets to the rally with no intention of attending
Political strategist Steve Schmidt said his daughter and her friends reserved hundreds of tickets
Twitter users were quick to reply that their children also sabotaged the rally" [….]
"There were thousands of empty seats at the BOK Center after Trump's campaign declared that it had received over a million ticket requests"
By JENNY STANTON FOR DAILYMAIL.COM
PUBLISHED: 20:55 EDT, 20 June 2020 | UPDATED: 01:20 EDT, 21 June 2020
"The Oklahoma rally was intended to be the largest indoor gathering in the world during the coronavirus pandemic that has killed almost 120,000 Americans, put 40 million more out of work and upended Trump's reelection bid.
"Trump's campaign, for its part, declared that it had received over a million ticket requests.
"But in the hours before the event, crowds seemed significantly lighter than expected at the 19,000 seat BOK Center. Campaign officials scrapped plans for Trump to first address an overflow space.
"There were many empty seats at Saturday's rally. Trump's campaign declared that it had received over a million ticket requests.
"The prank by TikTok users and K-pop fans came after the Trump campaign tweeted to ask the President's supporters to register for the free tickets earlier this month.
"The plan to sabotage the rally quickly went viral and videos telling viewers to reserve tickets and then not show up to began racking up millions of views. [….]
[AOC] "added: 'KPop allies, we see and appreciate your contributions in the fight for justice too.'" [….]
"PennyMoxie added: 'My 15-year old and her friends in Denver also purchased an obscene amount of tickets. I knew teens were smarter than Trump, but I had no idea they could outwit his campaign staff.'"
"Teresa Moore replied: 'It wasn't just teenagers. I'm 60 and I've got 300 tickets. And I'm an Oklahoma Democrat.'" [….]
"[…] huge swaths of empty seats remained in the downtown arena before Trump was to take the stage. And that came on the heels of the campaign revealing that six staff members who were helping set up for the event had tested positive for the virus."
[….]
"Earlier this month, fans of K-pop flooded right-wing hashtags with posts about Korean pop music.
"Hashtags for MAGA and Blue Lives Matter on Twitter and Instagram were co-opted by the music fans.
"As a result of the effort, hashtags designed to promote conservative and sometimes outright racist content were almost entirely populated with memes and 'fancams' that depict K-pop groups and their members singing and performing.
"The tactic showed similar success when K-pop fans, also known as K-pop stans, swarmed an app being pushed by the Dallas police that was designed to collect people's videos of 'illegal activity from the protests.'
"Instead, the app was inundated with K-pop videos and was eventually taken down as a result."
Keep it up, loves. Direct action gets the goods — and that includes direct actions anyone of any age can do from home. — Remy for Boop Troop News Blog.